Experience
A Tradition Felt by the Eyes and Body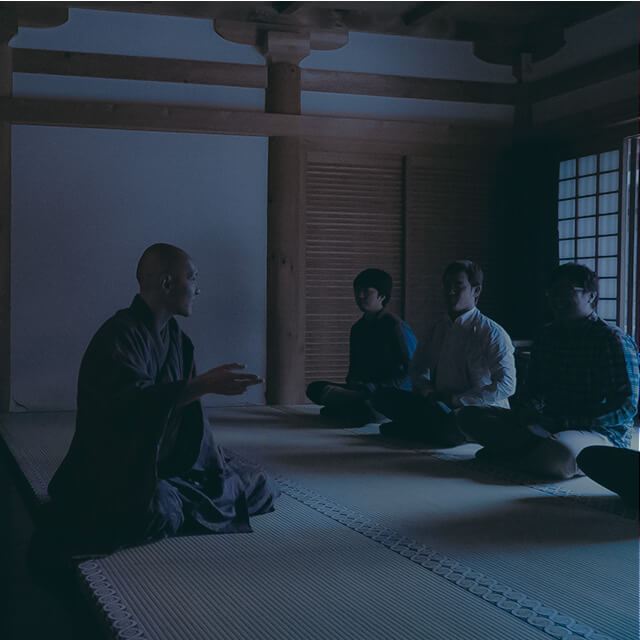 阿字観
ajikan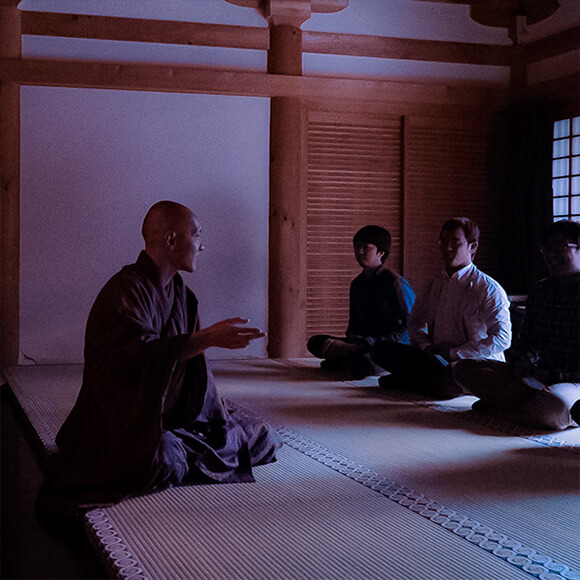 experience01
Take a breather with ajikan meditation
"At Sohonzan Kongobuji, you can practice ajikan meditation at Banryutei, Japan's largest rock garden, which is ordinarily closed to the public. Ajikan is a form of breathing exercise and meditation practiced in Shingon Buddhism. Meditate in tranquility amidst the pure aura of Mount Koya, still the mind, and leave your busy life. Monks are on hand to guide beginners, so this is an excellent addition to your visit to Kongobuji."
Schedule
Schedule

Four days a week (Fri, Sat, Sun, Mon)
Held from July 3, 2015 through November 23, 2015
Note that the schedule and time may be subject to change based on other events at Kongobuji.
Time

Held four times daily (for one hour)
9:30 11:30 13:30 15:30
Capacity: 20 persons per session
Location

Sohonzan Kongobuji Ajikan Dojo
Register at the charms counter at the back of Kongobuji. Note that places are offered on a first come, first served basis. First pay the ¥500 entrance fee (non members) at the main window.
Entrance fee

Entrance fee: ¥1,000
Reservations

No reservation is required. Places are available on a first come, first served basis. We encourage you to arrive early.
Send inquiries and registration requests to:

132 Koyasan, Koyacho, Itogun,
Wakayama Prefecture, 648-0294
Sohonzan Kongobuji Religious Studies Department
ATTN: Koyasan Ajikan Instructor
TEL:0736-56-2014
FAX: 0736-56-4640
(Weekends: dial 0736-56-2015)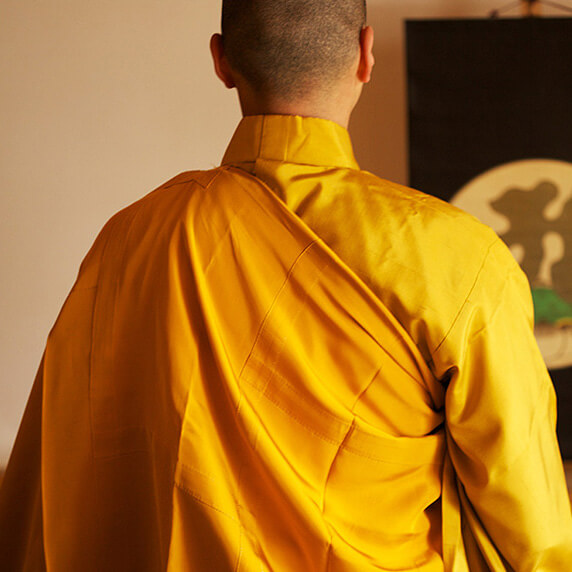 experience02
Ajikan Workshop
This session is led by an experienced ajikan expert from Sohonzan Kongobuji.
This is an opportunity to experience more intense ajikan meditation. Open to those who have practiced ajikan at least once before. (You will first be given an initiation at the Taishi Kyokai.)
Schedule
Schedule

May 11(Sun)
June 29(Sun)
July 20(Sun)
August 10(Sun)
September 14(Sun)
10月26日(日曜日)
11月 9日(日曜日)
Note that the instructor and schedule may be subject to change based on other events at Kongobuji.
Time

"Reception open from 12:00 to 12:30. Workshop from 12:45 to 16:00."
Location

Mount Koya Taishi Kyokai
Note that this location differs from the usual Ajikan Dojo.
Entrance fee

¥3,000/person (includes initiation fee)
Reservations

Please call the Kongobuji Education Section.
TEL: 0736-56-2014 FAX: 0736-56-4640
Weekdays 8:30 to 17:00
授戒
sutras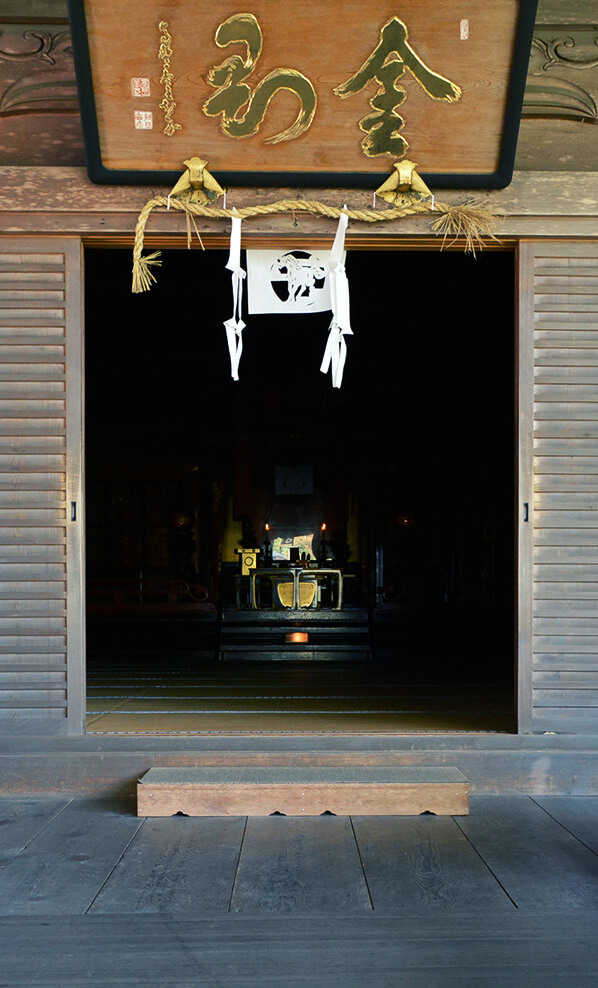 experience01
Sutras
In this practice, the teachings of the Buddha are received directly in a sermon from a high monk. This is one of the most emblematic traditions of Mount Koya and is available for participation year-round.
The Ten Precepts described therein were popularized through the ages as an accessible form of teaching for lay people. They describe codes of conduct that now, more than ever, are relevant to modern society. If people everywhere lend an ear to these precepts, we can achieve a better, richer society. They describe proper conduct and poise of mind.
Schedule
Location

Koyasan Daishi Kyokai Scripture Hall
Capacity

200名
Entrance Donation

We request an offering of ¥500 per person.
Reception hours

Please complete entrance procedures no later than ten minutes before the event is to start.
Start time

第1回 午前9時 第2回 午前10時 第3回 午前11時
第4回 午後1時 第5回 午後2時 第6回 午後3時
第7回 午後4時
Length

約30分
Note

Once the ceremony begins, you may not leave the premises partway through.
Inquiries

347 Koyasan, Koyacho, Itogun,
Wakayama Prefecture, 648-0294
Koyasan Daishi Kyokai
ATTN: Koyasan Ajikan Instructor
TEL: 0736-56-2015
FAX: 0736-56-4502
写経
shakyou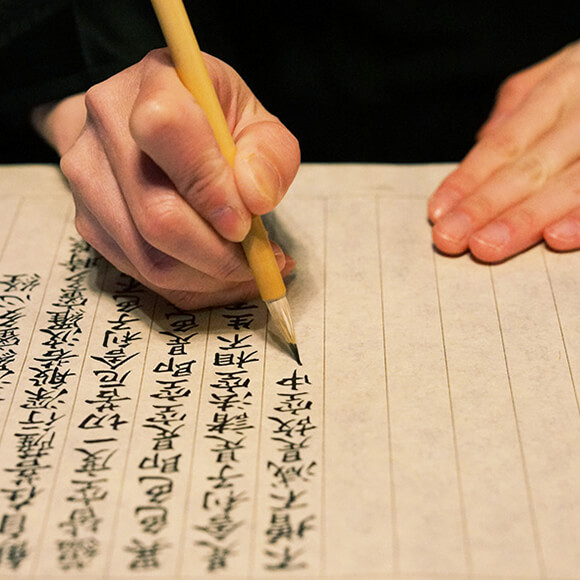 experience01
Shakyo
In an essay on the Heart Sutra, Kobo Daishi praises the sutra, saying that, in a text that reaches no more than 14 lines and is under a page, it gets to the essence of the Shingon teachings extolled by the Hannya Boddhisatva. Though simple in scope, its meaning is profound. He adds that deeply reading and reciting this sutra and performing services will bring salvation to the suffering; studying the scripture intently will lead to enlightenment.
Please join us in copying this sutra one character at a time, paying close attention to the meaning contained in every word. If you focus your entire action on this task, you will forget idle thoughts and still your mind. We recommend this activity as a way to develop a tranquil, bountiful state of mind.
Schedule
Location

Koyasan Daishi Kyokai Shakyo Classroom
Admission fees

For those only attending the practical component of the class, we request an offering of ¥100. For those seeking to contribute a finished copy of a shakyo, we request ¥1,000 for the practical component and offering fee.
Reception Hours

Open every day from 8:30 AM to 3:00 PM.
*Note that other events may take precedence over this one on certain days.
*Limited to parties of 1-10 persons.
Inquiries

347 Koyasan, Koyacho, Itogun,
Wakayama Prefecture, 648-0294
Koyasan Daishi Kyokai
ATTN: Koyasan Ajikan Instructor
TEL: 0736-56-2015
FAX: 0736-56-4502
experience02
Buddhism and Shakyo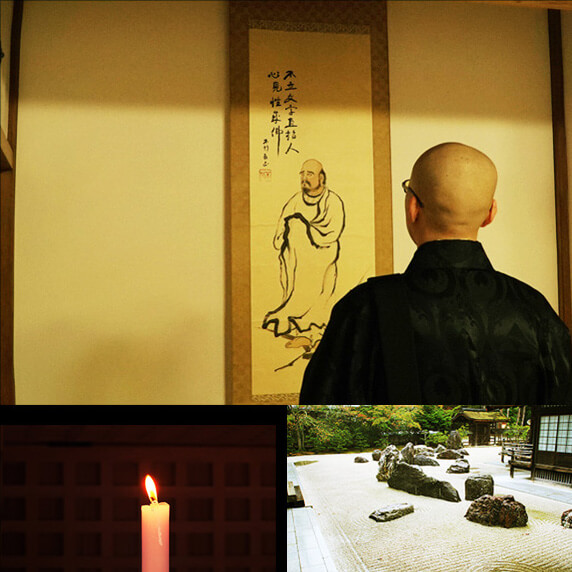 Shakyo is the act of copying sutras by hand. The teachings of the Shakyamuni Buddha were transmitted orally, but after Shakyamuni entered nirvana, one of his disciples, Mahakasyapa, appealed to his monk brothers the importance of properly copying down the teachings, and they were compiled for the first time. The compiled scriptures reached Sri Lanka in the first century BC in a Theravada form in the Pali language. Today, they are widely used in Buddhist countries in East Asia like Sri Lanka, Thailand, and Myanmar. In China, from the 2nd through 11th centuries, the scriptures were translated into their Chinese equivalent. The famous monks Xuanzang and Yijing, who traveled from China to India, as well as noted monks who translated the scriptures, like Kumarajiva and Bodhiruci, were active during this time. Subhakarasimha and Amoghavajra, considered among the great ancestors of the Shingon sect, also translated numerous scriptures, contributing to the spread of Buddhist culture. Because printing technology was still limited at the time, text could only be copied by hand, and the act of copying the scriptures came to be seen as one path to enlightenment.
Looking back to history, apocryphal sutras were deliberately composed in China, and the emerging need for translation, collection, and categorization of numerous texts, as well as differentiation between authentic and apocryphal documents, led to Dao An's compilation in the late 4th century of a catalogue of scriptures. Sengyo contributed his own "Collected Records Concerning the Tripitaka" in the early 6th century. The works referenced therein were referred to as the "complete scriptures" by the Wei Dynasty (386-534) and the "Tripitaka" by the Liang Dynasty (502-557). By the time of the Sui (581-618) and T'ang (618-907) Dynasties, the custom of copying 17 characters to a line had taken root. The Nihon Shoki records that in 637 at Kawara-dera Temple in Nara, shakyo was conducted.
This is held to be the start of the sutra copying tradition in Japan. In the Nara period, the equivalent of today's national libraries was created, and Confucian texts and Buddhist scriptures and images were stored there. These facilities were staffed by persons involved in copying manuscripts and binding them, pursuing the finest aesthetic refinements in their creation.
Sutra copying continued to spread as a model for language learning among laypeople and as a training method for the Buddhist practice. Along the way, a range of solemnities and rituals arose around this. In the Edo period, the practice went on to become a rite of passage for pilgrims, who would make offerings of texts they had copied. The practice became widespread at this time.
金剛流御詠歌
kongo sect pilgrim hymns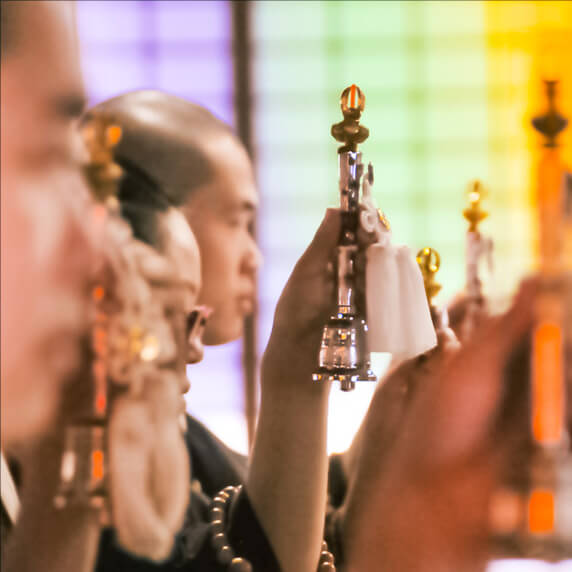 Kongo Sect hymns borrow to some extent from the Yamato and Myo'on styles of singing, which existed since ancient times, but they also represent a unique form the mode, scale, and notation of which have been uniquely compiled since 76th generation high priest Shun'no Sogabe (of Amanosan Kongoji Temple, Kawachinagano, Osaka) was appointed the supervisor of Kongobuji hymn singing in 1929. This led to the further refinement of the school's style and methodology, with new lyrics and compositions being made. Today, Kongo Sect Hymns feature unique, memorable pieces unheard anywhere else. This hymnal style has influenced not only Koyasan Shingon but even other schools, becoming an emblem of Mount Koya and its monks.
One of the features of Kongo Sect hymns is the presence of Yosencho, namely, that many of the hymns feature major keys as in Western music, and the compelling melody used therein. Each song has unique singing directions, using special techniques like "shiori," "oshi," "atari," and "mawashi." There are also different sub-genres, such as hymns that are sung renditions of Japanese poetry forms, songs of praise with 5-7 meter and 7-5 meter, and hymns meant for pilgrimages.
There are five tones: kyu, sho, kaku, chi, and u. The scale has twelve pitches, each ascending in three steps. This is equivalent to a thirty-six pitch scale, but only twenty-five of those pitches are actually used in compositions.
Tokyo classroom: pilgrim hymns
Date

Second and fourth Wednesday of the month
Time

Afternoon session: 1:00PM–2:20PM, followed by a 20 minute break, then continuing from 2:20PM–4:00PM
Evening session (for beginners): 6:30–8:00PM
Location

3-15-18, Takanawa, Minato-ku, Tokyo, 108-0074
Mount Koya Tokyo branch temple
TEL: 03-3441-3338
FAX: 03-3447-2243
Entrance fee

Afternoon session: ¥30,000 annually (two ¥15,000 installments)
Evening session ¥24,000 annually (¥2,000 monthly)
Dues can be paid bi-annually or monthly. Please bring initial dues to your first session.
Capacity

50 people (observers welcome)
Osaka Classroom: Place of Song
Date

First and fourth Fridays of the month
Time

1:30 PM to 4:00 PM (reception opens at 1:00)
Location

Taiyuji, 3-7 Taiyujicho, Kita-ku, Osaka-shi, Osaka Prefecture, 530-0051
Course fees

¥3,000 (paid in two monthly installments)
Capacity

100 people
Inquiries
お申し込みはお電話にてお問い合わせください。
各教室の開催日程ですが、行事等の都合により日程を変更する場合がございます。詳しくは各教室の 問い合わせ先にお問い合わせ下さい。
Tokyo Classroom: Tokyo Branch Religious Song Classroom

3-15-18 Takanawa, Minato-ku, Tokyo, 108-0074
Koyasan Tokyo Branch
ATTN: Eastern Japan Alliance Religious Song Group
TEL: 03-3441-3338 FAX: 03-3447-2243
Osaka Classroom: Place of Song

Fudoin, 8-15 Hongocho, Yamatotakada,
Nara Prefecture 635-0082
ATTN: Kongo Kinki Alliance Place of Song Team
TEL: 0745-52-1669 FAX: 0745-52-3764
金剛流宗教舞踊
kongo sect religious dance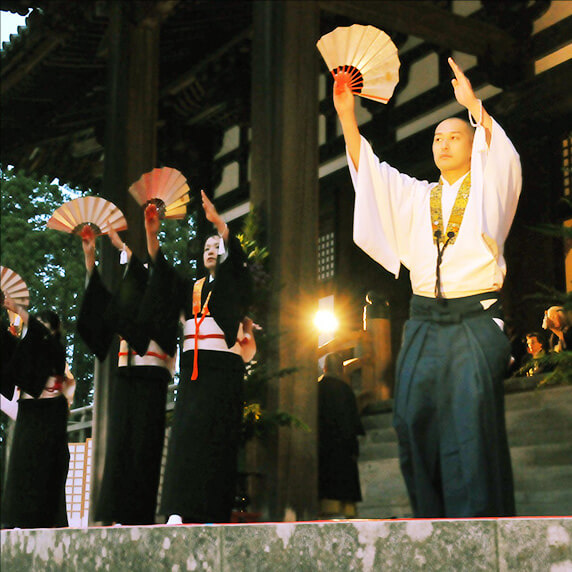 Religious dance is choreographed in tune to hymns of praise. Refresh body and mind by dancing in tune to these soothing melodies. Give your soul a reprieve from the busy everyday with an exciting and contemplative form of dance.
華道高野山
koyasan flower arrangement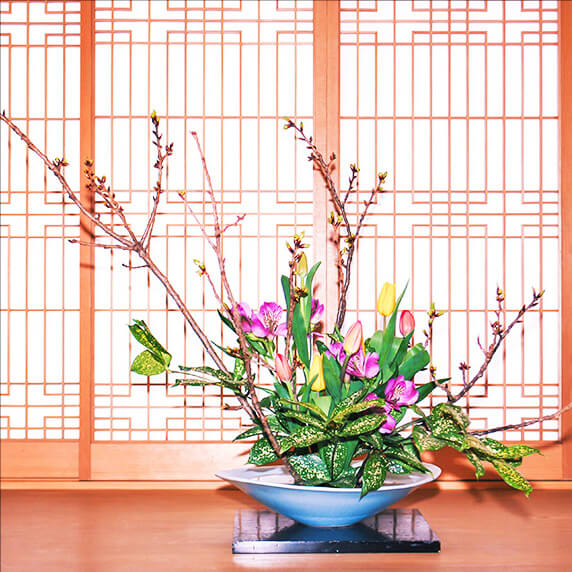 experience01
About our classrooms
If you love flowers and can empathize with their existence, you have the qualifications to join Kado Koyasan. If this is your first time with flower arrangement, you need not worry. We slowly teach you the fundamentals from the beginning, ensuring you can achieve expressive designs. We of course openly welcome experts and those studying other schools.
Inquiries
We take registration inquiries by telephone. You can contact the Tokyo/Osaka ikebana classrooms above or the Daishi Kyokai directly.
Note that the schedule for each classroom may be subject to change based on other events taking place. For details, please contact the classroom or the Daishi Kyokai.
Tokyo ikebana classroom

3-15-18, Takanawa, Minato-ku, Tokyo, 108-0074
Mount Koya Tokyo branch temple
Eastern Japan Mount Koya Flower Arranging Group: Ikebana Classroom
TEL: 03-3441-3338 FAX: 03-3447-2243
Osaka ikebana classroom

3-7 Taiyuji-cho, Kita-ku, Osaka-shi, Osaka-fu, 530-0051
Within Taiyuji
Western Japan Mount Koya Flower Arranging Group: Ikebana Classroom
TEL: 06-6311-5480 FAX: 06-6312-5454
森林セラピー体験ツアー
forest therapy tours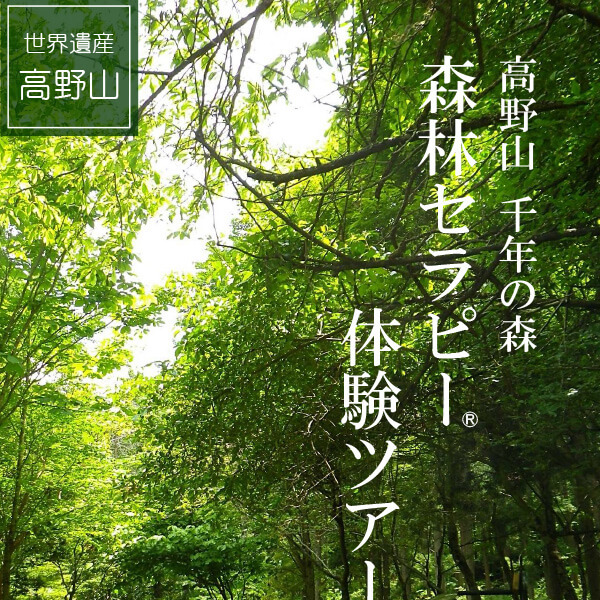 Forest therapy is a program that lets you regain your energies amidst the natural beauty, scents, sounds, and textures of the forest. Witness nature with your five senses as you unwind.
In addition to being designated a World Heritage Site for the sacred areas and temple roads along the Kii Mountains, Mount Koya was also been designated a forest therapy site in 2007.
Enjoy the crossroads of history and nature on Mount Koya forest therapy tours.
Schedule
Dates

May 24
June 22
July 19
August 24
September 27
October 26
Schedule

09:30

General reception, therapy explanation, orientation

10:00

Walk from Ichinohashi Bridge to Okunoin.
Therapy guide explains the history and religious culture behind Mount Koya as you see the surrounding nature.

12:00

Lunch and relaxation time at the therapy cottage.
Enjoy a special "therapy bento" and enjoy deep breathing in the forest.

14:30

Therapy session concludes. We part ways at the Ichinohashi Bridge
Attire and items to bring

Clothing and shoes suitable for exercise, such as sneakers, etc.
Capacity

20 people
Application deadline

Ten days prior to the event

Note that registration will be closed if capacity is reached, even if it is before the deadline.
Inquiries

45-17 Koyasan, Koyacho, Itogun,
Wakayama Prefecture, 648-0211 Koyasan Temple Forest Association TEL: 0736-56-2828 FAX: 0736-56-9055
Download Forest Therapy Tour Application
その他の研修会
other workshop
Counselor training workshop
Buddhism promotes ideas for the benefit of society at large: the idea of mutual support and learning and the idea of growing together. At this workshop, we study doctrinal principles to become better able to support those in fields like medicine, welfare, education, and government. We also train in you the ability to serve as a specialized expert equipped to coordinate the workplace and assist with emotional and spiritual issues. The workshop operates on a credit system, and participants aim to obtain 60 credits. (Transfer of existing credits is allowed)
Class of 2014 (13th group)
The problems society faces today are many: the shifting economic landscape, natural disasters, malfeasance in government, social unrest, suicide, emotional breakdown, an unstable social foundation, emerging care needs for the elderly, unemployed youth, shut-ins, a worsening education system, and more. Although the national government and local municipalities have proposed policy changes and pledges of support, these issues still loom. We want to encourage citizens to not only rely on administrative policy, but to take matters into their own hands by working with volunteer and NPO groups.
The Koyasan Counselor Training Workshop was designed with these needs in mind and seeks to train people who will have both specialized expertise and a flexible mindset, enabling them to support the therapy needs of people living today. The workshop has seen participants that include monks, medical practitioners, educators, homemakers, and business managers. Students learn the Buddhist philosophy of living in vow with other beings and helping each other, in turn creating a more prosperous world for all. This prepares them to better help others in their lines of work.
Graduates of the workshop go on to deploy these skills and take the initiative as counselors at the hospitals and care facilities in which they work, as well as in their own homes. They build networks within their local communities, launch non-profit organizations, and serve as instructors in their fields of expertise.
In addition to monks and medical practitioners, people from all walks of life gather to exchange opinions and learn together. This positive feedback loop helps everyone grow together and brings the priesthood in contact with the laity. Monks who take part in these workshops say they are particularly inspired by students from other fields. Experiencing others' pain and suffering firsthand creates a valuable space for learning that truly matches the goals of the temple and religion as a whole.
Going forward, we want to continue creating these much-needed spaces and methodologies for learning, as well as give the clergy, laity, and all who feel strongly about Buddhism a chance to work together and create a tight-knit culture built around Buddhism.
Curriculum

Courses focus on practical training in attentive listening and counseling.


Courses focus on theoretical training in counseling support based on the ideas of public welfare and clinical psychology.
Inquiries

Anyone with a high school diploma who understands the principles and objectives behind the curriculum is welcome to participate. However, some portions of the coursework may involve deep introspection that can be emotionally intense. If you are currently undergoing medical treatment, please consult with your primary physician first. Deadline to apply: Friday, April 11, 2014)
Course System

Each year, students pay fees for that year's course. Once paid for, courses are available to be taken within a two year period. In other words, courses one is unable to attend in the year payment is rendered can be taken within the next year. If you are unable to complete all of the courses for a given year, you can pay the course fees to advance to the next year. To re-take a course you have already participated in, you must contact the school office first.
Fees

Payment is made on an academic credit basis for that year, with payment equaling ¥50,000 (as of 2014 fee structure).
Note that tuition fees are non-refundable.
Other notes

Some workshops are held over the course of one night and two days. Note that participants are responsible for the cost of lodgings and meals.
The course will not be held unless a total of ten applicants is reached.
The first course is slated to be held on April 22 and 23. Location: Taiyuji, 3-7 Taiyujicho, Kita-ku, Osaka-7)
Upon completion of the counseling workshop, a student can proceed to the spiritual care worker workshop for more advanced training.
For details, please see the Japan Spiritual Care Worker Association's website.
Inquiries

132 Koyasan, Koyacho, Itogun,
Wakayama Prefecture, 648-0294
ATTN: Human Rights Office, Koyasan Spiritual Care Workshop
TEL: 0736-56-2013 FAX: 0736-56-2226
(Weekdays, 8:30 AM to 5:00 PM)
Annual schedule for 2014
spiritual care workshop
Welfare workshop
This workshop takes the ideas of esoteric Buddhism and applies them to social welfare, seeking to define its purposes. We learn about Kobo Daishi's social outlook and get real-world input from those working in the social welfare and medicine fields.
June 10, 2014/Osaka
While today's modern society enjoys the progress science has brought, this same progress has also created issues like environmental destruction, a wealth gap, and ethnic conflict. Within Japan, we face pressing issues like rising crime, abuse, truancy, and shut-ins, problems stemming from social instability and weakening interpersonal bonds.
Today, religion is being looked to anew as a path out of these burgeoning social dilemmas.
We have invited Masayoshi Morisaki, associate professor at Koyasan University, to teach about Kobo Daishi's ideas of social welfare. At the root of Kobo Daishi's teachings in this area is a fundamental respect for life. We are granted life and pass through this world on that current until we enter the next realm. Promoting the philosophy, ideas, and activity of social welfare in today's society requires respecting living things around us. Let us explore together through Kobo Daishi's teachings how we can best make these ideas a reality in today's world.
Date

平成26年6月10日(火)
受 付 12:30~
開会式 12:50~
講 義 13:00~16:30
Details

13:00~16:30 Kobo Daishi and Public Welfare, presented by Masayoshi Morisaki (Associate Professor, Koyasan University)
Location

Taiyuji,
3-7 Taiyuji-cho, Kita-ku, Osaka-shi, Osaka Prefecture, 530-0051

10 minutes' walk from Osaka Station (JR) and Umeda Station (Hankyu or municipal subway)
200 meters from the central fountain at Whity Umeda
Fees

¥3,000 (paid at the reception desk on the day of the event)
Prerequisites

Open to anyone
To apply

Download the application forms and fill in your address, post code, name, sex, birthdate, contact address, and occupation and submit to the address below by post, fax, e-mail, or telephone.
Inquiries

"132 Koyasan, Koyacho, Itogun,
Wakayama Prefecture, 648-0294
Human Rights Office
TEL: 0736-56-2013
FAX: 0736-56-2226
E-mail/ shakaika@koyasan.or.jp
Details and application forms for 2014 Social Welfare Workshop
Counseling workshop
As part of Koyasan Shingon's social welfare activities, we hold workshops in which we explore what kind of emotional and spiritual care people in modern society need, learning the theory and practice of counseling fundamentals and using this specialized knowledge to explore how to deploy counseling in local communities, seeking to determine how to counsel, support, and soothe in an effective manner.
Counceling workshop
Modern society faces a range of problems. What can we do to heal damaged hearts? One technique is attentive listening — paying heed to the other party without preconceptions or barriers, being open and welcoming to everything that is said. Through this process, the speaker will feel at ease and begin to heal.
As part of Koyasan Shingon Buddhism's efforts towards the promotion of social welfare, this project has been an ongoing annual affair since the year 2000, and we have had participants that include monks, nurses and care specialists, homemakers, and nursery school teachers. We dive deep to investigate what kind of spiritual and emotional care people living in modern society truly need and how to best offer that care to both ourselves, our families, and those living in our communities.
The workshop is held per the following schedule. We invite you to make use of what you learn in the workshop in your daily life.
Schedule

平成26年11月6日(木) 受付13:00~13:30 講義13:30~15:30
Location

Koyasan Tokyo Branch (Okushoin)
3-15-18 Takanawa, Minato-ku, Tokyo, 108-0074
15 minutes' walk from the Takanawa exit of Shinagawa Station
Professor

Professor Kazuhisa Ueno
Director, Wakayama Medical Office; part-time lecturer, Osaka University and Osaka University of Economics; Vice President, Wakayama Prefecture Association of Certified Clinical Psychologists and director of victim support program of above)
参加資格

どなたでも受講いただけます。
受講料

2,000円(当日集金いたします)
申込締切

平成26年10月31日(金)
Capacity

30名(定員になり次第、締め切りとさせていただきます)
To apply:

申込書をダウンロードして必要事項(氏名・郵便番号・住所・電話番号・職種・生年月日)をご記入いただき郵送・FAXあるいはメール又は電話にて下記よりお申し込みください。
Inquiries

〒648-0294
和歌山県伊都郡高野町高野山132
社会人権局 社会課
電話/0736-56-2013 Fax/0736-56-2226
E-mail/ shakaika@koyasan.or.jp
(平日午前8時30分~午後5時)