Handicapped facilities
This section outlines which facilities offer ramps and restrooms accessible by wheelchair.
Legend
Entrance is at least 80 cm or wider.

Facility has a ramp.

Equipped with automatic doors.

Restrooms have railings.

Restrooms accessible by wheelchair

Western-style toilet with railings.
Sohonzan Kongobuji

6 wheelchairs

Daimon

Danjo Garan

3 wheelchairs

Koyasan Reihokan

5 wheelchairs

Koyasan Taishi Kyokai

4 wheelchairs

Nyonindo

Tokugawa Clan Mausoleum

Okunoin

7 wheelchairs

Koya City Community Center

Koya City Koyasan Hospital

Koyasan Tourism Association

5 wheelchairs

Nakanohashi parking lot Public toilet, east side

Nakanohashi parking lot Public toilet, west side

Public toilet next to Rokuji no Kane

Public toilet in front of Garan

Public toilet behind Garan
Wheelchairs are available to borrow, so please contact the nearest staff member.
These are fundamentally intended for use indoors. If you require a wheelchair for outdoor use, please contact the Mount Koya Taishi Kyokai at 0736-56-2015.
Kongobuji tour guides introduced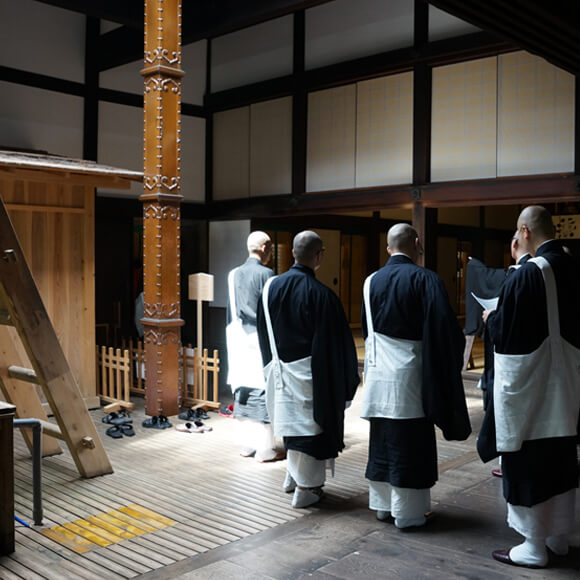 Mount Koya has dedicated guides who have passed tests run by Konbobuji. They are available to help you learn more about Mount Koya's history and further enjoy your visit. Get more out of your Mount Koya experience by learning in detail and experiencing their thorough service. We are standing by.
To register
To register for a tour, notify the Koyasan Tourism Association in advance with your name, address, number of people in your party, planned visit date, and contact telephone number. We will contact you to confirm. For further details, please communicate directly with the tour guide you are put in contact with.
Note
If you will be late to your scheduled tour due to traffic congestion or other reasons, or if you are forced to cancel, please contact your designated tour guide. In the event of same-day cancellations, you will be charged half the price of the tour price.
Costs associated with your visit(entrance fees、travel expenses)are your responsibility. The tour price does not include entrance fees to Mount Koya buildings.
The Koyasan Tourism Association is not responsible for any accidents sustained during your tour (including in transit).
Miscellaneous inquiries
Send inquiries and registration requests to
Koyasan Tourism Association
TEL: 0736-56-2616

648-0211
600 Koyasan, Koya-cho, Ito-gun, Wakayama-ken