Forestry Division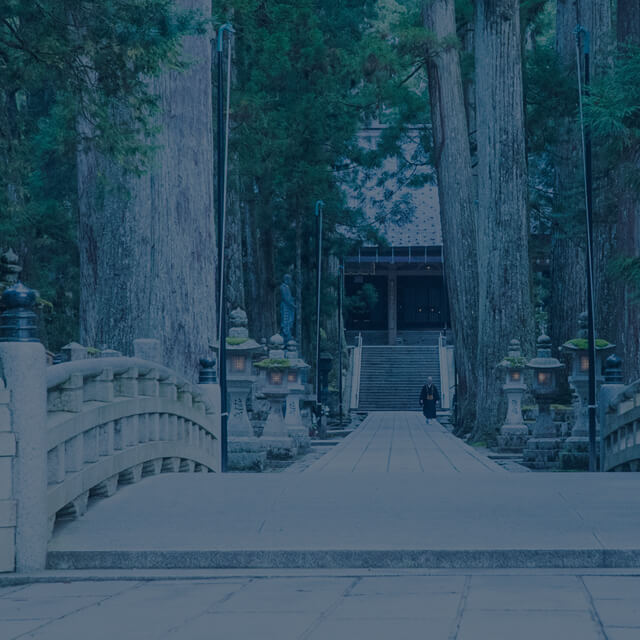 Mount Koya's forests and their history
1
Mount Koya at the time of its founding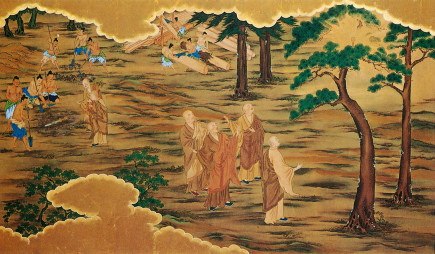 "In 816, Kobo Daishi opened Mount Koya as a site for the practice of Shingon Buddhism. While it remains difficult to pinpoint what the mount was like at that time, it is said that the area was an uninhabited swamplands surrounded by lush forest. "
2
The first large-scale reforestation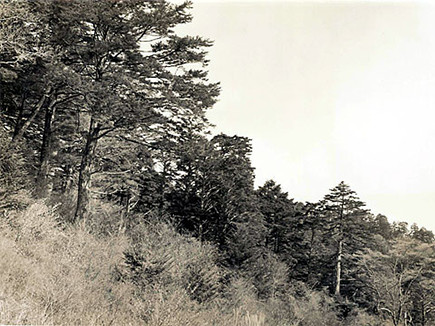 "Kobo Daishi was granted Mount Koya by Emperor Saga actual and built according to Buddhist principles of scale in order to prevent the entrance of ill forces. It is unclear what the actual area was at the time, but we estimate that it reached around 3,000 hectares. In 994, Mount Koya was subject to a great fire, and most of the Garan burned away. As part of the reconstruction, the surrounding forest was cleared to a considerable degree. Mount Koya had been reduced to a barren plain. Between 1011 and 1015, Kishin Shonin planted hinoki cypress seeds around the mountain, the first large-scale forestry effort."
3
A series of fires; protecting the forest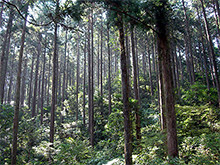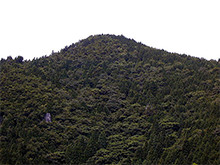 Mount Koya continued to be subjected to large fires, requiring vast amounts of lumber each time the temple buildings were rebuild and repaired. Rather than use clear-cutting (1), selective cutting (2) was used to obtain lumber while keeping new crops planted. Older trees were selected in sequence from around the mountain, and in their place were planted seedlings of hinoki cypress, umbrella pine, cedar, pine, fir tree, and hemlock, woods chosen for their suitability for construction.
1) Clear-cutting: clearing an entire region of forest in one pass
2) Selective cutting: selectively felling mature lumber from a region of forest every several years to every ten years and allowing the area to regrow
4
The six tree types on Mount Koya





In 1813, the six tree types to be used on Mount Koya wre designated. These were cedar, hinoki cypress, umbrella pine, red pine, fir tree, and southern hemlock. These six types of trees are banned for use outside of repairing the Garan and temple buildings. In this way, the forests around Mount Koya and the six tree species growing within them have been protected for many long years since the mount's founding.
5
A new government nationalizes the forest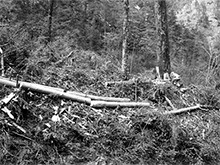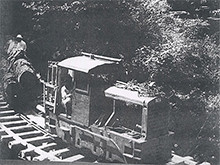 Mount Koya has stewarded some 3,000 hectares of forest for the 1,000 years since its founding. In the Meiji period, the surrounding forest declined to 2,888 hectares and the majority of the area was designated as a national forest. This caused Mount Koya to lose the majority the the forest that served as its economic base.
In 1886, 9 hectares were devoted to afforestation (reforesting). By 1900, this area had grown to 382 hectares. It is believed that a large quantity of natural lumber was cleared at this time. As felling and transport technologies developed, the forest went from a selective culling process to clear-cutting.
6
Giving back to the forest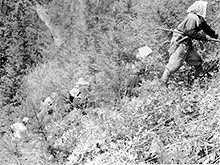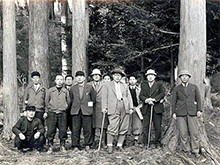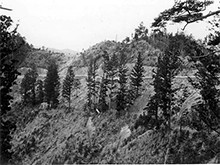 "Since the land around Mount Koya was initially nationalized, the forebears of the temple have contributed to the forest by brokering various negotations. Between 1918 and 1945, 2,578 hectares of national forest were put under the supervision of Kongobu-ji as managed forest land (3). The majority of the managed forests granted to the temple had been already clear-cut by the government, so they had to be replanted at the roots. In 1920, Kongobu-ji created a forestry division devoted to the protection and growth of the forests. "
3) Managed forests: a system by which one third of the proceeds obtained from cultivating a forest and obtaining lumber from it are given back to the government.
7
Giving back to the forest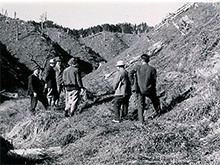 Following WWII, about 500 hectares of what had been managed forests were continued in today's format as forests the profits of which are shared (4), with 600 hectares being returned to Mount Koya's ownership. In addition, since before the war and continuing after it, the temple has bought several privately owned forest lands, increasing the acreage under its purview. In 1951, the temple created the Forestry Division as a continuation of the Forestry Group that had previously existed, establishing a plan based on ten-year cycles of forest stewardship and management.
4) Shared forests are created for the purposes of building forest land; the forest builder and the government enter into a profit-sharing agreement before cutting the lumber and agree to share profits in the future. The deed to the plot of land belongs to the government. On April 1, 2013, a partial revision of the legal code concerning the administration of national forest lands allowed for the period for cutting to be extended every eighty years.
8
A natural monument in the Okunoin cedar forest (designated as a special seed collecting area)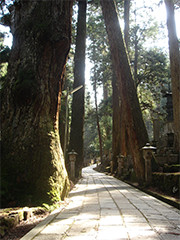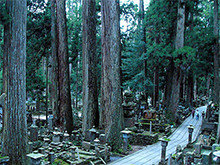 "The 2km, 17 hectare cemetery area spanning from Ichinohashi to the mausoleum at Okunoin is home to a densely-packed cryptomeria forest in which rest some several tens of thousands of gravestones in a mysterious and elegant profundity. Okunoin's cryptomeria forest was planted in the Edo period out of seedlings contributed by daimyo lords around the country. It remains today as a testament to parishioner's faith. On April 1, 1958, the forests were deemed to be in healthy shape and was designated as a natural monument of Wakayama Prefecture in order to ensure its continued protection. On March 30, 1971, the forests were further designated as special seed collecting forests in order to protect the shape and quality of the trees and ensure a stable supply of high quality seeds and saplings. "
9
Emperor Hirohito and Empress Kojun visit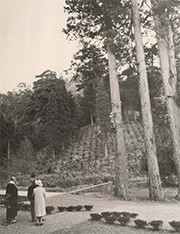 In April 1977, the National Tree Planting festival was held in the Nachisan mountain region. On April 18, 1977, the emperor and empress visited Mount Koya. The emperor, with his deep knowledge of flora, toured the foothills of Mt. Sani and saw the traditional "buri-nawa" conifer tree climbing technique performed.
10
Forest designated as a cultural asset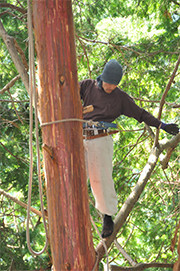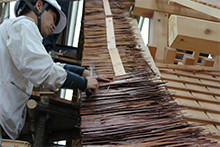 The Japanese Agency for Cultural Affairs designates select forests as cultural assets for their importance in contributing to the continuation of structures of cultural importance. This system ensures a stable supply of assets derived from the countryside (in particular those that would be difficult to secure without proper management) and promotes the training of experts in the field.
Mount Koya's forests are a testament to faith, planted by our forebears and kept alive through the support of parishioners. The trees have exceeded one hundred years of age and their bark can now be used for "hiwada" (5) roof thatching. An area of approximately 125 hectares, which includes the hiwada bark and other natural flora, was approved on March 24, 2015 for registration as a cultural asset.
5) "Hiwada" is the aged bark of the cypress tree that has been peeled off. It is widely used for shingling on traditional roofs such as those found in traditional architectural landmarks.
11
Kongobu-ji forest area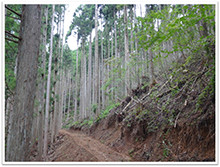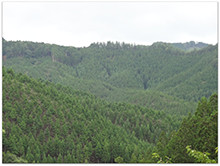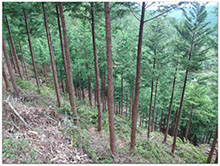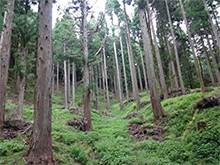 Kongobu-ji total forest area
1642.34 hectares
(as of December 2014)
(Breakdown by region)
Area
Forest regions owned by the temple
1. Forests on temple grounds
94.49 hectares
Mount Koya
2. Mount Koya
754.63 hectares
Koyacho:
compartments 1 through 53
3. Tsuji-no-chaya
  Yukawa
305.35 hectares
Koyacho:
compartments 54 through 68
4. Kitadera
16.95 hectares
Koyacho:
compartment 70
5. Otaki
118.91 hectares
Koyacho:
compartments 69-1 through 69-3
110 through 114
6. Moriwaki
3.19 hectares
Koyacho:
compartment 69-4
7. Kokuka
21.1 hectares
Kudoyama:
compartment 71
8. Naigodani
36.79 hectares
Koyacho:
compartment 72
9. Tateri
152.45 hectares
Nosegawa, Nara Prefecture:
compartments 105 through 109
10. Totsukawa
138.48 hectares
Totsukawa, Nara Prefecture:
compartments 100 through 104
Total shared forest area 482.91ha
Koyasan, Koyacho national forest: compartments 236 through 244 and 216
Notes regarding lumber offerings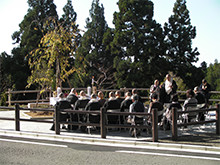 The Forestry Division is committed to responsible forest management in order to pass Mount Koya's fertile forest lands on to the next generation.
Proper forestry involves not just planting, but periodic trimming and culling of the lumber.
The rich greenery around the mount has been an important fixture of the temple since its founding days, and maintaing it in this condition for those followers to come in the future requires a considerable forestry infrastructure.
As Kobo Daishi teaches, we are but members of a much larger flow of life in the world, and we live in vow with other beings. Donations of lumber from parishioners are used to ensure that Mount Koya's sacred forests remain vital for the future.
¥2,000 per donation
1口の献木を頂いた方

One donation entitles you to a set of two wooden postcards featuring zodiac imagery.
Parishioners
making over five donations at one time (over ¥10,000)

will be treated to a Koya Reiboku calendar.


(The next year's calendar will be shipped around mid-November)
Account
口座
Postal account
(Osaka) 00930-6-61758
JP Bank,
Branch 099 Acct. 0061758
Account name
宗教法人 Kongobu-ji Forestry Division
We will send you a dedicated wire remittance slip that you can then forward to the Forestry Division.
648-0211 132 Koyasan, Koyacho, Itogun, Wakayama Prefecture
宗教法人 Kongobu-ji Forestry Division
TEL:0736-56-2016
FAX:0736-56-4640
Bulletin — toward joint prosperity
(2012) Founding issue
2012 Autumn
Spring 2013
The mature forest of vast cedar trees between four hundred and six hundred years old that line the route to Okunoin is responsible for creating the simple elegance unique to Mount Koya.
Kongobu-ji's Forestry Division, which is responsible for stewardship of the majority of the forest land on that route, welcomed the sixtieth anniversary of its founding in 2012.
The occasion was marked with the creation of the "Toward Joint Prosperity" bulletin, which describes the group's history to date and its current efforts.
Wood products lineup
Koyasan Reiboku Forest Calendar
Surrounded by eight peaks enshrouded in eternal greenery, Mount Koya has developed as the sacred and fundamental site of Shingon Buddhism for 1,200 years.
We used the Koya Reiboku wood growing around the temple precinct to create these special calendars.
They are made from cedar and cypress that is the result of proper trimming as part of forest stewheardship.
After the year is passed and you have used the calendar, you can continue enjoying it as a poem to hang on your wall and continue to reap its blessings. We include a copy of the inscription along with the calendar. Take this opportunity to further affirm your connection to Mount Koya and enjoy the warmth of natural wood.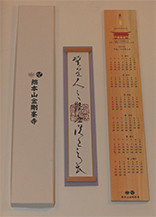 Wood type

:

Cedar and cypress


The type of wood cannot be specified, as lumber from periodically scheduled thinning is used.

Dimensions

:

Approx. 55cm tall  Approx. 8.5cm wide  1.2cm thick


The poem text may be subject to change. It cannot be specified by the buyer.

Price

:

¥3,500

(Sanyokai and Taishi Kyokai members and temple parishioners receive a 10% discount)

Shipping

:

¥700 nationwide

(Shipping fee is the same to all areas within Japan)

Payment

:

COD only

Shipments are subject to a ¥250 handling fee
Orders of over five items receive free shipping and no COD handling charge.
Reservations and inquiries

Quantities are limited, so Sanyokai and Taishi Kyokai members and temple parishioners are invited for advance purchase of the pieces until October 11.
Orders are made open to the public beginning October 12.
Sanyokai members are eligible for a discount. Please mention your member number upon purchase.
These items are also available as bonuses for lumber donations, so please refer to the lumber donation page for further details.

648-0211
132 Koyasan, Koyacho, Itogun, Wakayama Prefecture
宗教法人 Kongobu-ji Forestry Division
TEL : 0736-56-2016
FAX : 0736-56-4640
E-mail: sanrinka@koyasan.or.jp

Telephone reservations and inquiries should be placed within the hours of 8:30 AM and 5:00 PM on weekdays.
Koya Reiboku Cane Holders
Many people today travel to Shikoku to make the 88 temple pilgrimage and seek solace and peace of mind. It is on these visits that they make their way to Mount Koya. Based on the idea that Kobo Daishi is always with us on our travels, you can make your pilgrimage with this cane. After paying your respects at the temple, you can safely store it at home until the Buddhist equinoctial services.
This cane carrries the wish that Kobo Daishi guide us into the next world. For the 1,200 years since Kobo Daishi founded Mount Koya as a sacred site for the training of Shingon Buddhism, the "Koya Reiboku" cedar wood here has grown through the years and weathered snow and storm to continue into the present as a living example of faith. We have used this cedar to create special cane holders.
When you return from a temple visit, you can use this accessory to store your cane, a symbol of Kobo Daishi's being at your side, until your next trip.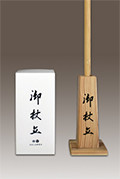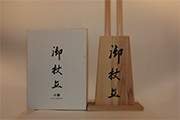 Wood type

:

Cedar

Dimensions

:

Single cane holder    Approx. 32cm tall  Approx. 15cm wide  15cm thick
Twin cane holder    Approx. 32cm tall  Approx. 24cm wide  15cm thick

Price

:

Single cane holder:   ¥3,800(tax included)
Twin cane holder:    ¥5,000 (tax included)

Shipping

:

Varies by region. We will contact you after you order.

Payment

:

COD only Orders under ¥10,000 are subject to a ¥324 handling fee
For handling fees on orders over ¥10,000, we will contact you after you order.
Orders and inquiries

Please contact us by telephone or fax.

648-0211
674 Koyasan, Koyacho, Itogun, Wakayama Prefecture
Koya, Inc.
TEL : 0736-56-1011
FAX : 0736-56-1021

For telephone orders and inquiries, please call between the hours of 8:30 AM and 5:00 PM on weekdays.